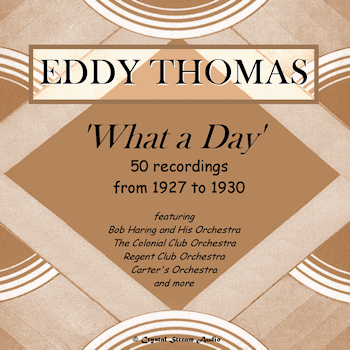 FIRST CD: I Fell Head Over Heels in Love; You Can't Walk Back From an Aeroplane; Shine On Harvest Moon; Breeze; What'll You Do?; Are You Thinking of Me Tonight?; Did You Mean It?; Every Evening; The Church Bells Are Ringing For Mary; Wings; Laurette; Someday, Somewhere; Jeanine, I Dream of Lilac Time; Carmen; Jo-Anne; Good Night; I Tore Up Your Picture; The First Kiss; Just Because of You; To Know You is to Love You; 'Round Evening; A Room With a View; Watching the Clouds Roll By; Love Dreams; Another Kiss; I'll Get By (as Long as I Have You).
SECOND CD: Glad Rag Doll; Caressing You; Used to You; Huggable, Kissable You; That's You Baby; My Dear; Reaching for Someone (and Not Finding Anyone There); You and I in the Moonlight; After Thinking it Over; S'Posin'; Heigh-Ho, Everybody, Heigh-Ho; What a Day; Maybe, Who Knows; After Thinking it Over (solo); The World's Greatest Sweetheart is You; Smiling Irish Eyes; Beside an Open Fireplace; Lonely; Gee, But I'd Like to Make You Happy; Three Little Words; On a Little Balcony in Spain; To Whom It May Concern; The Kiss Waltz; Chimes of Spring..

About one third of these sides have previously appeared on various Crystal Stream Audio USA dance band CDs.