Latest Releases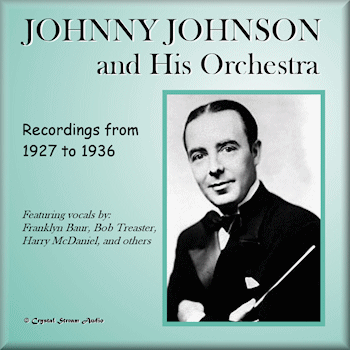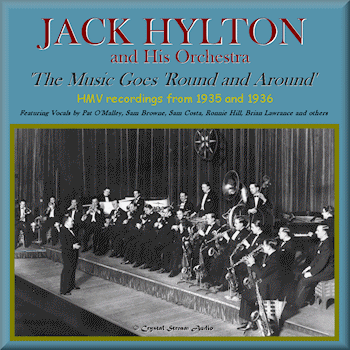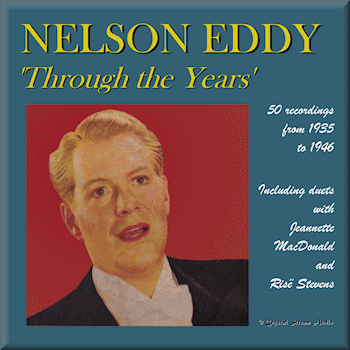 Johnny Johnson and His Orchestra
Recordings from 1927 to 1936

Jack Hylton and His Orchestra
'The Music Goes 'Round and Around'
DOUBLE CD
49 recordings from 1935 and 1936
Including vocals by Pat O'Malley, Sam Browne, Sam Costa, Brian Lawrance and more.

NELSON EDDY
'Through the Years'
DOUBLE CD
50 recordings from 1935 to 1946
Including duets with Jeannette MacDonald and Risė Stevens

Harry Roy and His Orchestra
Volume Seven
DOUBLE CD
52 recordings from 1940 to 1946
Including the eight sides Chick Henderson recorded with the band in 1940

California Ramblers
Directed by Wallace Theodore 'Ed' Kirkeby
Recordings from 1922 to 1931

Wallace Theodore 'Ed' Kirkeby
'When You're Smiling'
DOUBLE CD
49 recordings from 1926 to 1931
Featuring vocals by Smith Ballew and Elmer Feldkamp (and others)


Crystal Stream Audio CDs are priced as follows:

*** PRICES INCLUDE POSTAGE ***

Single CDs: A$19.50 to adresses within Australia
A$23.00 to other countries
Double CDs: A$24.00 to addresses within Australia
A$27.50 to other countries

Orders can be made online using the 'ADD to CART' button shown for each CD.
PLEASE ENSURE YOU SELECT THE CORRECT ADDRESS LOCATION.
When you have completed adding the CDs to the CART, continue to the check-out by using the 'VIEW CART' button to pay via PayPal.
You can pay using your PayPal account or a valid credit card if you are not registered with PayPal.

PLEASE NOTE:
We will be overseas from 16 February until 17 March and any orders received during that time will not be processed until we return. Although we are still able to receive orders through PayPal while we are away it may be better to defer ordering CDs until the middle of March. Everything will be back to normal after that time.

Recent reviews of Crystal Stream Audio CDs by MEMORY LANE, England.

Crystal Stream Audio provides an opportunity for collectors (and those who still remember) to hear the music of the past. Many of the tracks on these CDs have not been available for years. To ensure maximum listening pleasure the recordings have been lovingly restored from high quality original discs held in private collections. Each CD contains more than 70 minutes of playing time!

As the CDs are completed they are added to the catalogue and we are always pleased to hear from collectors who may have particular favourites they would like to hear again.

You can hear a couple of compressed, medium quality MP3 samples of tracks from the CDs listed under 'Latest Releases' by clicking on the highlighted selections shown on the pages for the CDs. Also, by 'clicking' on 'Before & After' you will hear how old recordings can be 'restored' to improve the enjoyment of the listener.